The good:
I tried the 3A DL1198 and it is a good budget downlight. It has all the basics that you should always look for such as:
Dimmable
Color changing switch
IC-4 (which means it can be covered with insulation and it should be ok)
Good brightness at 10W and 950 lumens.
IP44 as a minimum
3 yrs warranty
Beam angle: 90 degrees
Cut out: 90mm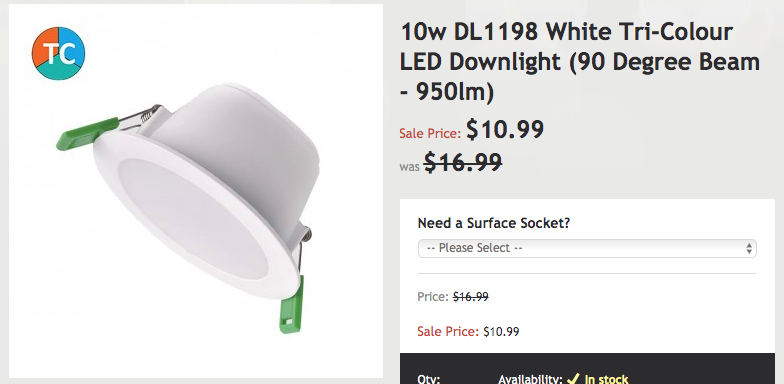 The not so good are:
Cannot be found on the importer's website (http://www.3a-lighting.com.au/newproducts)
Once it is in the ceiling, it is extremely hard to bring down (to ether replace or the change the light color).
As it is no longer on the importer's website, it indicates that this product is being phased out. This is confirmed by the website listing other 10W downlight options. Being on sale also indicates that suppliers are trying to get rid of this stock.
Bringing it down from the ceiling is extremely difficult and you end up slightly damaging the plaster board. If you don't believe me, try it yourself and you'll see.
Recommendation:
If you are looking for a budget downlight, this is a possible option, just don't expect to have an easy time taking it back down. For me, because an important feature is being about to bring it back down, change the color setting, replacing it when required, and inspecting it every now and then, I will not be recommending this light because there are others out there that tick all the boxes like this one does as well as being easily removable.